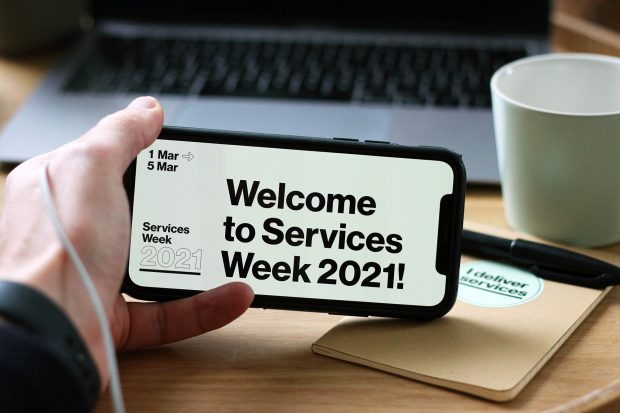 The third annual Services Week will be held on 1–5 March 2021, and we'd like to invite you to get involved in any way that suits you. 
We aim to show what good service transformation in the public sector looks like and demonstrate how we can work together to deliver accessible, equitable, and sustainable public services.
The activities and events are run by people from all parts of the UK public sector, making it a truly cross-organisation occasion. 
The first Services Week in 2019 had around 55 events, and the second, in 2020 had more than 85. 24 different central and local government organisations from all parts of the UK have participated, bringing the conversation about better public service design to 14 locations.
This year will be different, though. It will be a remote-first event with most activities taking place on screens as a virtual gathering, not face-to-face. Remote-first means location-independent. As we know, after working from home for 10 months, this creates challenges and opportunities. 
A few weeks ago, we got together to reflect what worked well the last 2 times, what needs to be different this time, and how we are going to do it. And we discussed objectives for Services Week 2021.
We want to: 
show excellent work of the past year from all parts of government and the wider public sector

help people understand the value of end-to-end user-centred service design

connect people with different backgrounds who are working on similar things
We recognise that many of us spend a lot of time in front of screens all day long. So we might aim for shorter sessions, possibly audio-only sessions, and sessions that allow easier dipping in and out of. We should also be able to record more sessions and make them available to people who missed them.
With time and cost of travel eliminated, Services Week in 2021 can be more accessible than ever before. Auto-generated captions are available on the video conferencing services we already use, and also on the video-sharing platform we rely on to store the recorded sessions.
We also spoke about the possibilities of collaborating on events and building in evaluation and feedback where we can. We are looking into a common evaluation method that will allow people to leave feedback anonymously.
How to engage in Services Week 2021
Services Week is an open and distributed event series. Any civil servant and public servant can participate. Together, we will create handy resources, offer support and provide a framework for the week. The programme and content will be developed by the attendees from all parts of government and the wider public sector.
Services Week is an opportunity to have a conversation about service transformation, celebrate successes, and discuss future priorities. Depending on your time and availability, there are different ways to engage:
you can attend events set up by others

you can contribute to events already planned

you can organise and run your own events 
The most popular formats we have seen in the past 2 years are:
case study presentations

clinics and Q&A sessions

content and design crits

meetups and networking events

show and tells

training

workshops
Throughout the week, we are planning to have lunchtime case study presentations again. From Monday to Friday at 12pm, we will ask one service team to present their work each day, adding to our growing case study library.
If you are interested in contributing to Services Week, look at this presentation which gives an overview of things you can do (there is also a PDF version). It includes pre-packaged workshop ideas, guidance on how to run a workshop and also virtual backgrounds, which you can download and use in your video conference tool. They replace the posters from previous years, fitting the circumstances we are in. You can use the template to create a custom background to promote your session.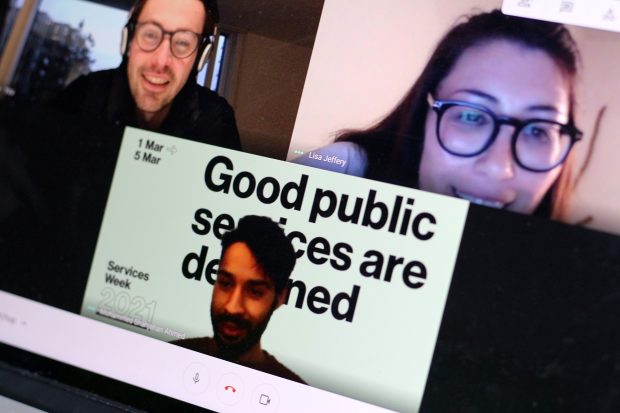 How to propose a session 
Services Week is what you make of it. You will know best what works in your organisation and what is most needed. It is open to any service area and topic – from parking permits to COVID-19 responses, nothing is too small or too big to share.
With a remote-first event series, we also have new opportunities to make cross-location, cross-organisational formats happen that weren't possible before. We are curious to hear what new session types and formats you might come up with. Be aware, not all organisations have access to the same services and tools. We can expect people to use different solutions for video conferencing, for example.
To hear what colleagues from other organisations are doing, join in the conversation on social media using #ServicesWeek. For inspiration, you can also have a look at what happened last year.
The planning will happen via an open Trello board. On it, you can find a template for session proposals. Get access by joining the #ServicesWeek channel on the cross-government Slack. You can add your event to the agenda and follow it as it develops over the coming weeks. If you have problems accessing it, you can also submit your session to the board via email or email us directly to add your event. Join the conversation, find updates on the cross-government Slack and view the published version of the agenda so far.