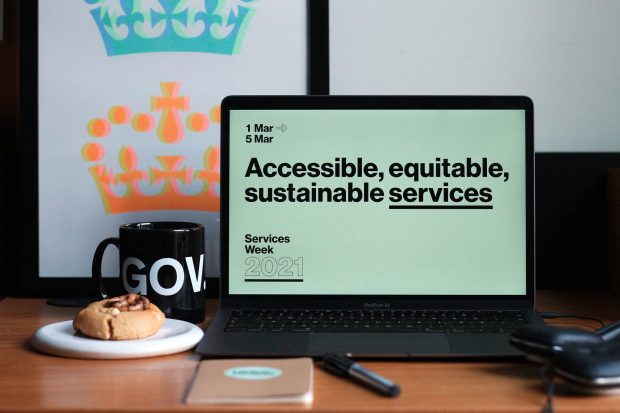 Services Week 2021 is taking place this week, from 1–5 March. It's the third annual cross-organisational UK public sector event series to discuss good public services. This year, there's a focus on accessible, equitable, and sustainable services.
A new record of 34 public sector organisations – from the BBC to HMRC to the West Midlands Combined Authority – will run and participate in 57 sessions over the next 5 days. There will be workshops, morning meetups, webinars, tools tutorials, project presentations, and question & answer sessions.
For the first time everything will happen remotely, making it easier for many to participate, avoiding time and cost for travel. Many of the presentation and video conferencing tools we use across government offer auto-captioning, making it more accessible for colleagues deaf and hard of hearing to engage. Various sessions will be recorded and available to watch later, too. 
Join sessions from wherever you are
The week kicks off at 10am with a welcome note from the Government Digital Service's (GDS) new Chief Executive, Tom Read, followed by 3 snapshot presentations from across the UK public sector. Each day, around a dozen sessions cover a broad range of topics – including content and service design, performance data and data management, accessibility, research methods, legacy technology, justice, and equity. 
Throughout the week, colleagues will share their service transformation work over lunchtime. We will hear from Home Office's CoLab about refugee integrations loans, the Department for Work and Pensions' service design work on health and working age, and multiple service design projects at Department for Environment, Food and Rural Affairs.
Every morning, the links to all remote sessions will be published via the #ServicesWeek channel on UK government Slack and Local gov digital Slack.
To guarantee an inclusive, respectful and welcoming environment, the cross-government working group organising Services Week 2021 has created a Code of Conduct every participant is asked to read and follow. To improve the session formats, set-up, and available information, a universal feedback form allows attendees to leave comments and evaluate individual sessions anonymously.
As many of us spend a lot of time looking at their screens, HMRC's innovation team has developed an audio-only format. The 30-minute conversation about the future of tax is the ideal companion for an after-lunch walk and available on YouTube.
Services Week will wrap up on Friday 5 March, in the afternoon, with an open show and tell from GDS. Like in previous years, it will be streamed live and accessible to the public.

Why people are taking part
We asked some of the people organising events during Services Week what they are doing and why they are getting involved. Here is what they said:
Sarah Slack – Assistant Director of Delivery, Homes England
From when the first Services Week was announced in the Autumn of 2018 via a GDS blog post, I was excited at the potential of bringing together and showcasing all of the great work across government and the opportunity to run an event regionally.

Personally, I learn so much every year about what others are doing and have made some fantastic connections that have contributed to improvements in how we work (my first experience of the visual collaboration software Miro was at Service Week 2019).
This is the first year the Homes England Digital team presents, and we are really looking forward to sharing our story so far on Building a modern data platform and working with our partners BJSS.
Serena Nüsing – Service Designer, Scottish Government
Our User-Centred Design Team sits within the Scottish Government's Digital Directorate. Our aim is to help government organisations adopt digital business models that will deliver well designed, accessible and inclusive public services.
Service design is a relatively new discipline that has come to Scottish Government through digital transformation however, its remit is far wider than digital. With this in mind, our focus at Services Week will be on raising service design awareness and bringing different parts of the public sector and government together around the common goal of designing end-to-end and user-focused services.
Alongside other service designers from local government and public sector, we will talk about building service design buy-in and capability. Furthermore, we will run a session exploring how to develop service design awareness material for different DDaT (Digital, Data and Technology) roles. We see Services Week as a unique opportunity to connect with people across the UK government and public sector and to foster collaboration, which is at the heart of what we're doing.
Helen Spires – Service Design Lead, NHS Business Services Authority (NHSBSA)
At the NHSBSA, we're running a series of 15-minute lightning talks to share some of the key concepts of UCD. Sarah, User Researcher on the NHS Jobs Service, originally ran a version of this as a 'UCD refresh week' for her team as they had a lot of new starters, who'd not worked with designers or researchers before. The aim being to give a brief overview of what guides us and how we work. Our sessions are also deliberately brief to encourage participation and also leave people with where to go to find out more.
Exposing more people, especially decision makers, to our ways of working hopefully encourages more people to explore user-centred Design and ultimately championing the work that we do.
Take part in Services Week 2021
A packed agenda for the week is awaiting you. If you want, you can still add a session – it's not too late to do so. You can add your event to the open agenda and promote it using the editable virtual background template. On the agenda, you can find a template for session proposals. Get access by joining the #ServicesWeek channel on the cross-government Slack. 
We have created some presentation slides you can use to tell participants about Services Week, find out about more events and how to connect with others.
Join the conversation, find updates on the cross-government Slack and view the published version of the agenda.
You can use and follow the hashtag #ServicesWeek on social media to share your experience and follow others wherever you are.