In an earlier blog post, Economist Dilan Saujani gave an overview of how we measure the value of service transformation in government. This blog post is a case study showing what a user-centred approach to service transformation looks like in practice.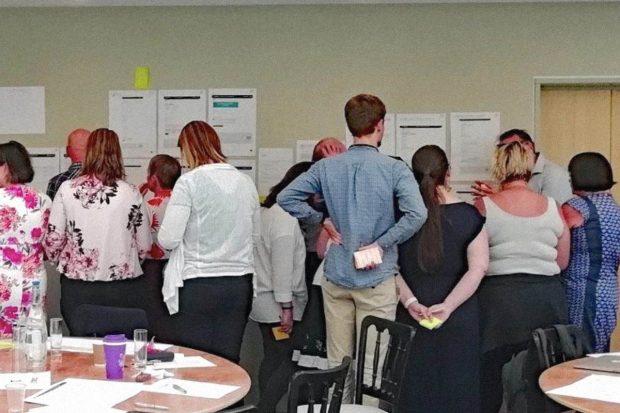 Background
In December 2017, we began replacing a legacy licensing system for a Home Office team that regulates scientific research. 
The university research and biosciences industry contributes £74 billion to the UK economy annually. It relies on the efficient granting of licences to carry out vital research, for example into medical treatments. Licence applications are rigorously assessed to ensure research programmes are compliant with the law. 
The digital service is used by universities and commercial organisations to apply for three types of licence: establishment, personal and project licences. The users, which include scientists and administrative staff, can draft and save applications within the service. Granted licences are managed within the system.
Defining the problems to solve
In 2017 the Home Office completed a discovery into the legacy service. Some of the problems identified included:
inefficient workflows: staff had to manually copy lengthy Word applications into other formats to issue licences

no single source of truth for licences: this meant users could be looking at outdated versions of licences

inflexible system: an inability to share applications securely in-system increased the risk of sensitive data being shared via other channels

restrictive account management: accounts were managed by a third-party supplier

insufficient guidance: lack of clarity on what to include in licence applications increased the number of revisions users had to submit, which was time-consuming

Service Standard non-compliant: the legacy service met only 3 out of 18 points
The new service had to be live by August 2019. Not meeting this deadline would have meant costly contract extensions to maintain a service that wasn't adequately meeting users' needs. It would have also caused reputational damage for the Home Office. 
What we did
The team were motivated by 2 things; to keep users at the heart of the transformation, and to increase efficiency in ways of working for the regulator. To help us get this right, we defined performance measures so we would know if we'd achieved our desired outcomes.
We used the discovery findings to start solving problems. We designed, tested and iterated different system components in line with GOV.UK's Design System, the Home Office Design System and the Technology Code of Practice.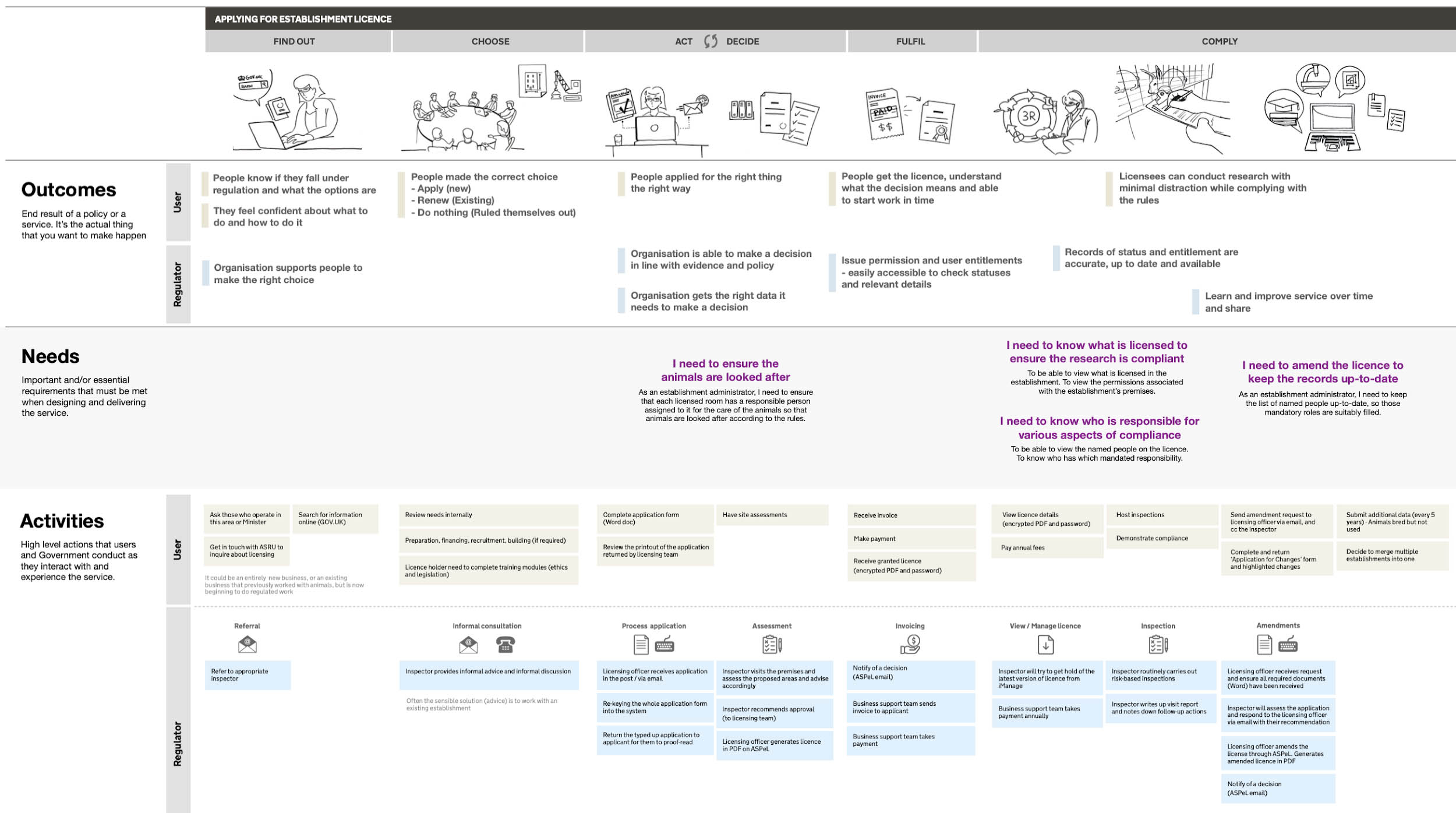 Some problems were highly complex. For example, during research interviews and workshops we found that establishments had opposing views about who should be able to see licence data. Some needed to protect intellectual property whilst others needed to share data to support learning and best practice.
We didn't shy away from this complexity. Instead we kept testing solutions with users until we found something that met everyone's needs. In total we held more than 500 research sessions in 3 years, engaging with 61% of establishments across the UK. We also held more than 80 remote sessions to widen our reach and accommodate lockdown restrictions.  
"This is a great example of the value of a user-centred approach. In close collaboration with the service owner, Martin Whiting, this team have worked extremely hard, conducting user research with more than 500 participants and building trust in our ability to create digital services that are genuinely transformative."
Katy Arnold, Deputy Director – Design and Research, Home Office
Results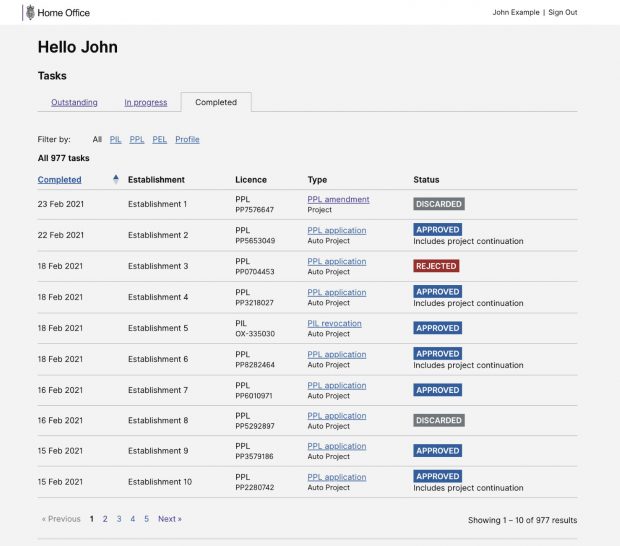 We are now in Public Beta. The new service was delivered on time, on budget and meets all 14 points of the updated Service Standard. 
The service is continuing to be developed, but early benefits suggest1:
a 50% reduction in the number of iterations of draft project licence applications from 4.8 to 2.5, decreasing time and burden on senior scientists assessing applications

a 50% reduction in the time taken to process a personal licence application, freeing up valuable staff time for other work

a 30% decrease in resources required to answer parliamentary and freedom of information requests

a rise in the percentage of users satisfied with the online service from 47% in 2018 to 78% in 2020 – this includes a rise in those very satisfied from 5% to 33%2

a rise in the percentage of users who are confident in the regulator's ability to provide an effective service from 77% in 2018 to 85% in 2020 – this includes a rise in those very confident from 15% to 46%
"The new system saves us so much time and is so much better. We are happy to pay even more fees to keep up this level of improvement and change!" 
- Establishment licence holder of a major UK research corporation
Lessons learned
Building such a complex service has held unique challenges for every discipline. We are taking away 4 lessons from this.
Benefits take time to realise
Initially we found it actually took longer for licence applications to be processed in the new service. This is because it required significant changes to ways of working, which took time to embed. We've had to be patient and monitor the benefits over time, being mindful we may need to change tack if they didn't materialise.
We all need to compromise
The team at full strength was 11 people, which is a lot of opinions to accommodate. As a result every discipline has had to compromise. We've had to tackle the instinct to make things perfect - or to deliver fast but less user-centred solutions - to achieve the right balance.
Preferences are not needs
Whilst the service meets a lot of needs, we've had to be careful to limit the number of features we add to avoid making the service too complex. At times we've had to be frank with stakeholders that trying to accommodate too much too soon could impact on the integrity and sustainability of the whole service.
Senior buy-in is vital
We've been extremely fortunate to have senior stakeholders who back an evidence-based, user-centred approach. Thanks to them we've been empowered to make decisions that benefit all users and not just the most influential or vocal ones.
Next steps
We're continuing to develop the service to meet users' and the regulator's needs. We're also starting to speed up knowledge transfer so the regulator can manage the service with less support in the future.
---
1 HO measured the difference in time and resources required to complete these tasks on the legacy system vs. the new system to produce the time and resource savings figures.
2 Figures are from a survey of external users run first in January 2018 and then May 2020. The survey had 65 respondents in 2018 and 51 respondents in 2020.