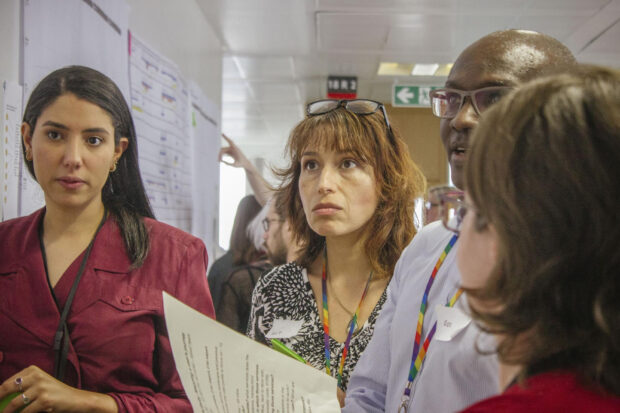 Collaborating and working together effectively is a commonly held goal across government departments. One of our priorities is to design and deliver joined-up, end-to-end services. The recently updated Service Standard encourages teams to: 'Work towards creating a service that solves one whole problem for users, collaborating across organisational boundaries where necessary'.
At GDS we want to help all of government collaborate as effectively as possible on services. One of the ways we've been doing this is by establishing work on Service Communities. These are networks of people from across the public sector who work together to design and deliver an end-to-end service, like start a business or get health benefits.
We know that this way of working can benefit service teams and users, but we also know that this sort of culture change takes time to happen, especially in government. Getting people together to talk about challenges is one thing, but setting up a collaborative group for long-term, sustainable work is another challenge completely.
Based on the communities' experiences, here is a step-by-step guide to overcoming these challenges – to setting up your Service Community and making it sustainable.
Step 1: Start with the problems you're trying to solve that impact others
We've learned that a good way for people to start to join up their work is to identify common problems they can tackle together.
If you're looking to start a Service Community, a good way of doing this is to think about the particular problems your service team faces. Then think about how these problems can impact other teams and how others can impact you. Problems could be specific to your service – for example users being unable to complete a task or dropping out of the service – or something that is a more systemic – for example a lack of join-up between functions or departments causing issues with service delivery.
The 'Import-export' community was set up as they realised they had a common challenge around sharing knowledge, and the 'What to do when someone dies' community was set up to improve the content between probation and inheritance tax. Once these communities were established, they started to develop other areas where they could collaborate.
Think about it as starting small and getting more ambitious. Instead of trying to identity the entire end-to-end service from the beginning, start with common, tangible challenges and work out from there.
Step 2: Identify the people who share these problems
It's very likely your work fits in a wider context of what the user is trying to do. So who do you need to talk to to tackle any challenges you might identify?
You can use the "5 Whys" technique to dive deeper into the root causes of the problems you find. This can help you identify other organisations, departments, agencies and teams involved.
It can be difficult and overwhelming to approach all the organisations involved. We've seen more success in starting by talking to the people you already know or people most affected by the problem. This might mean approaching existing governance and working groups who are already working in your space or by talking to who's likely to be a "blocker" to the work you want to do 
Step 3. Contact people and propose a meeting
You can start by contacting people you know in your area. Explain to them the problems you want to address and how setting up a service community will help address them. With service communities as a framework for collaboration, users have a 'government approved' way of working, which can reduce any hesitation or reluctance to start the community.
Once you've got interest from those people, suggest a call or a meeting to decide objectives and ways of working. The 'What to do when someone dies' community organised a 2-hour meeting with remote participation as a first step.
Step 4. Agree on shared problems and set shared objectives
Once you've set up your first meeting or call your Service Community will be up and running. The next challenge is to make it long-term and sustainable.
The first step towards that is to ensure that the people who share your problems agree on what you're all going to do next and how you're going to work together. 
You can start by asking the following questions:
What is the thing that brings us together?

What problem are we trying to solve?

Does everyone agree this is a problem and that it is worth solving?

Are we capable of solving this problem?
The responses to these questions can become the basis for setting community objectives, which define what the community wants to achieve.
A good way of setting these community objectives is to run a session to help community members first define their individual, team and departmental objectives, and then to translate these into common community objectives.
Step 5. Agree ongoing ways of working
For the community to be sustainable it's important to define how you will work together. This means looking at things like whether you will use meetings or phone calls; how often these will take place; and who will be in charge of facilitating them. You can read more setting ways of working in the Service Manual.
We know that managing and facilitating collaboration takes time and effort. That's why it's important to share the workload and distribute responsibilities and tasks amongst the members of the community early on, rather than relying on one person to do everything. 
Sharing the responsibility makes things more sustainable over time, reduces dependencies, and distributes the pressure and work.
Step 6. Capture things and make them visible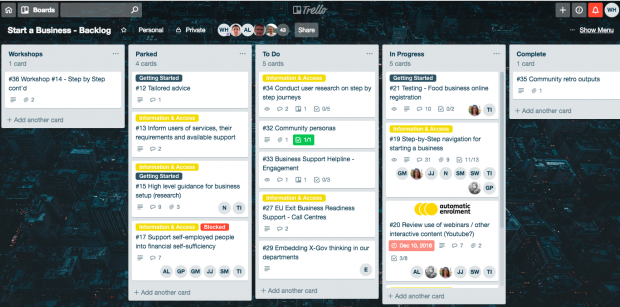 In order to capture the community's work it's important to set up communication channels and create spaces where work is documented. 
Most communities host meetings every one or two months and use a mailing list to communicate outside meetings. Others have regular calls, use Slack or organise using Trello. For example, the 'Start a business' and 'Import-export' communities have set up shared Trello boards to record their objectives and achievements.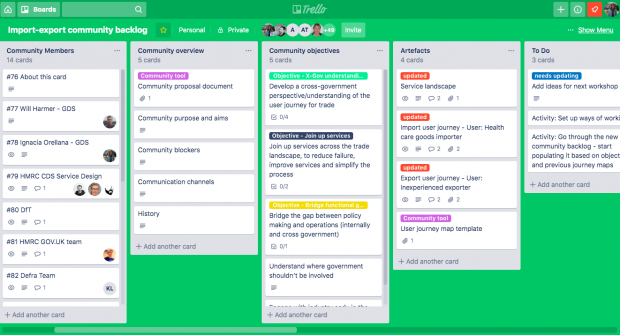 Creating a community backlog in Trello gives community members tasks that can be tracked and measured against objectives. This can include things like the problems you've agreed on, people involved, the scope of the work, and ways of working. 
Doing this can help ensure that as a community you're continuously developing and delivering.
Get started
If you'd like to build on this blog post and set up your own community, visit the Service Manual to find out more guidance about how to do this.