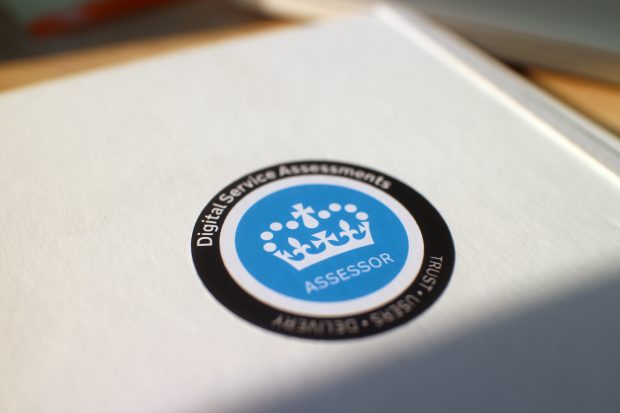 The Service Standard helps teams create and operate good public services. It started out as something aimed at central government teams, but the latest version is something you can use even if you're part of the wider public sector.
The GDS Standards Assurance Service team manages the assessment of public facing digital services against the Service Standard when they meet our threshold (100,000 or more annual transactions). It means we work across a whole range of departments and guide the teams through the assurance process and ultimately the assessments themselves.
As we see services come through and meet, or not meet, the standard at Alpha, Beta and Live assessments, we see everyday the pressure teams face to meet the standard. Through the development stages, we know teams work incredibly hard to deliver their services but receiving a not met at assessment can have an impact on a service team. It can dishearten team members, lead to criticism and tarnish some of the good work that has also been done.
A part of the assessment process allows a panel of peers to give recommendations to improve the service. However, coming to an assessment can still seem daunting and we spoke with a product manager at Department for Work and Pensions (DWP) who recently experienced this:
As a product manager on a team which had developed a service as a response to COVID-19, when GDS told me we had to have a mandatory beta assessment 8 weeks after going live, I confess I really felt under pressure.

We had all worked so hard under difficult circumstances, so I wanted the service to do well and I was really worried about how it would be viewed if we 'failed'. GDS was quick to remind me that the assessment wasn't like an exam where you passed or failed, but an opportunity for peers to look at the service and come up with recommendations so we could make the service even better.
It's important to remember that though a service is being assessed, the panel is also there to help the service team in building a good service for citizens.
It's ok to...need a reassessment
There have been times when a service has come for an assessment and not met the standard. This does not mean that the team has failed! Service teams can do lots of brilliant work and not meet the standard. 
It's likely that panel members are part of other service teams in their day jobs, so they understand the mix of emotions you're going through in your journey. When there is challenge in an assessment you're probably talking to someone who has experienced similar challenges in their role. Cross-government assessors aim to be constructive in their questioning and to create a safe space to have these conversations. 
After the service assessment, a report is shared with the service team highlighting what the team has done well and any recommendations. The report is a great opportunity for the panel to help steer service teams in meeting the standard and more importantly building the highest quality digital services for citizens.
Sometimes it can take more time for a service to meet the Service Standard and it won't always happen the first time in an assessment. However, through objective feedback, teams gain a valuable direction for their work, spending time and money on areas that will ensure the service meets users' needs. A service owner from the Ministry of Defence (MoD) used the report in the following way:
I had exactly what I needed to demonstrate to my Executive Leadership Team that it was time to secure a user researcher on a permanent basis if we were to progress this service further. Equipped with evidence of proactively addressing the panel's concerns, the reassessment resulted in a 'Met'. My advice for those fearing a 'Not Met' is to consider programming your mind to understand that 'Not Met' equals 'Opportunity to improve service'.
Working with Standards Assurance
The Standards Assurance Service team has a number of ways that we can support service teams up to and through the assessment process. The most important starting point is to engage early with us, whether it feels like it's going well or not.
By reaching out to the Service Assessments team we can better understand where you might be having challenges in meeting the standard. We have connected service teams across government who are also working or have worked in the same space. Introducing teams to each other has proven to be a great way to share knowledge and support each other.
Another type of support we can provide is through the Assurance Support team. The team, among other support offerings, can act as a critical friend both before and after any assessment to support service teams. For example, they may attend show and tells to provide advice on how the team is currently working and where the service is and is not meeting the standard.
GDS also offers cross-government sessions including the "Get Feedback" sessions. These sessions are for people working on service design, interaction design, content design, tech writing and graphic design work to get feedback from colleagues across government. 
There is also the weekly-run accessibility clinic, where we can discuss anything accessibility-related or look at your service from an accessibility perspective together with you.
We see first-hand that building services to the Service Standard isn't always easy and we're here to help by making the assessment process a constructive experience for all and give further support when needed. It is perfectly fine to learn, improve and iterate – the importance of services meeting the standard remains, even if it doesn't happen at the time.