People faced with possible flooding can use the flood information service on GOV.UK. 
In this highly stressful situation, the service must be up-to-date, accessible to all and easy to understand.
This is our main focus as we transform this life-saving service, to meet user needs. Using good service design principles, we design from end-to-end, front-to-back and for every channel.
What does the flood information service do?
The flood information service displays active flood warnings and alerts in England. It provides localised warning information, such as main roads and areas affected during an incident. It also displays real-time information on river and sea levels, along with some forecast stations giving a model output over the next 36 hours of flood risk for a particular river level station. You can also look at a 5-day national view of flood risk, sign-up to the warning system, and access official guidance on what to do before, during, and after a flood. 
In February, the UK suffered consecutive storms, causing widespread flooding. But it also provided the perfect opportunity to test the service's resilience. To illustrate the scale of this, over the month we:
had more than 30 million page views on

GOV.UK

issued more than 1.4 million telephone warnings, 500,000 text messages, and 560,000 emails

received more than 20,000 calls into the recorded message service and 6,000 calls to our agents.
Transforming the service using good service design
The service is undergoing a makeover, currently in a private beta stage. The new version will bring the user a more streamlined and localised journey. 
This coincides with our redesign of the warning system. These changes address users' pain points with the service, such as over-alerting and difficulty in managing their warning accounts.
Drawing on a 2016 blog post by Lou Downe, designing a 'good' digital service means developing a whole service, not just focusing on a component. Specifically, good service design means that services are designed from end-to-end, front-to-back and for every channel.
We've rebuilt the service to reflect these principles.
Designing from end-to-end
End-to-end means from when the user starts trying to achieve a goal to when they succeed – including all related content and transactions provided by various departments and organisations.
The Environment Agency is a Category 1 emergency responder for flooding. We run an end-to-end emergency relief cycle. This includes planning ahead, as well as flood preparation, action, and recovery. We also support individual and community resilience, such as getting help on what happens after a flood. 
Our digital service reflects this end-to-end journey and supports users through all stages of flooding. From showing users the localised and updated information on imminent flood risk to helping them with real-time information and assisted digital support, easy to access guidance, the service is built around the users' flood journeys. For users who want to take control of their own alerts, we also provide river levels, based on localised gauges, as well as modelled outputs for forecast stations, which can show river level movements up to 36 hours in advance.
As with most government services, there have been some historical data sources held by different parts of the organisation. These data sources had to be merged, and its legacy components updated.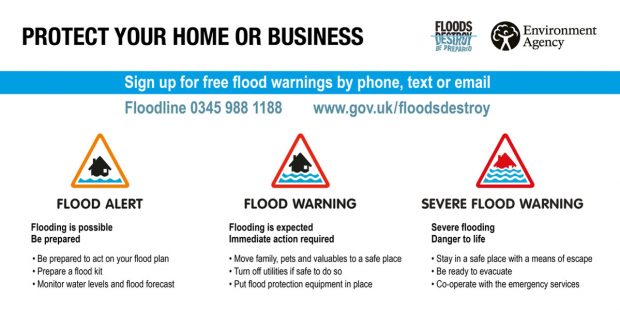 Designing from front-to-back
Front-to-back means the user-facing service, internal processes, supporting policy or legislation and organisational, financial and governance structures of the service. 
The digital services team re-thought the flood digital services. They started with user needs, which are traced right into the back-end of the systems.
We run live dashboards on user feedback and service performance. They are critical during incidents for us to check user satisfaction and performance. The users can also use this feedback channel to ask for real-time information or advice. For instance, they might report a faulty river level gauge, and ask us to have it polled or repaired.
The team passes the query to the Flood Warning Duty Officers. They are in the incident room, depending on the severity and spread of the flooding situation for that specific area. The officers are able to validate information. Where appropriate, they issue changes which then work their way back up to user-facing GOV.UK. All this happens in a short space of time, and it would be impossible if the service were not designed front-to-back.
These back-end systems are extensive, and being redesigned in our NeXt Warning System (XWS). This service has just come out of an enlightening discovery, and recently won the Defra Group 2020 Award for the 'Getting it Right' category.
Transforming the service front-to-back has been one of the biggest challenges for the team. Internal processes are entrenched in the service, and play an essential role in shaping opportunities and limitations of the service. But we are addressing this challenge by involving wider colleagues in our agile delivery process.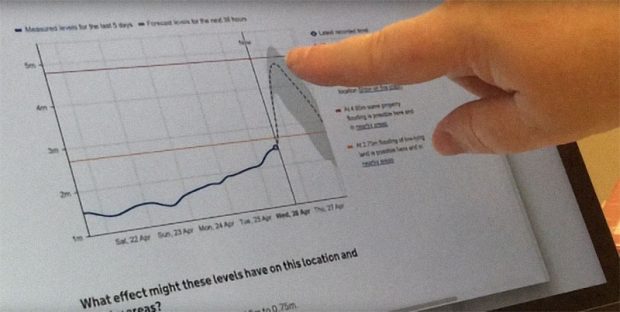 Designing for every channel
As well as providing flood warning information on GOV.UK, we make the information accessible through our call centre, Floodline, which supports our assisted digital service. We also send flood warning information directly to users via text message, email, automated calls, and interactive voice response.
Our text messaging is supported by use of GOV.UK Notify. Users most at risk are automatically enrolled in the warning system through a programme called Extended Direct Warnings. We work with national telephony providers to proactively add their customers' details anonymously to our service.
We have also been the first UK authority to partner with Google Public Alerts. This service works by matching a user's location, usually indicated by a mobile device, to a potential threat. It ensures that vital warnings have greater visibility using Google's location-based search platform, making sure flood information is targeted towards those people at highest risk.
In collaboration with the Cabinet Office, we are now supporting the use of cell broadcasting in the UK, its implementation and roll-out in the UK. The Flood Warning System is making an essential contribution to this technology and is driving forward its development, in partnership with a cross-government group.
Tangible benefits from applying service design principles
Our flood digital services have transformed over time to be user-centred. As with most government services that combine several partial offline, digital, and technology offerings owned by different parts of a department, this service design transformation is rarely straightforward. A key challenge was designing for a vast spectrum of users, in often different circumstances, as well as catalysing change in risk-averse government services.
Following good service design principles, means that we now operate a more streamlined, reliable, and accessible service. We also offer a suite of related information, data, and guidance for users at other points of the emergency cycle.
The flood information service is a sizable digital service, especially when coupled with its warning system. Despite this, we were still able to apply these principles to evolve our live service, proving that services of all sizes and maturity can benefit from these service design principles. 
You can follow current progress, and join the conversation via the flood warning team's Twitter account.