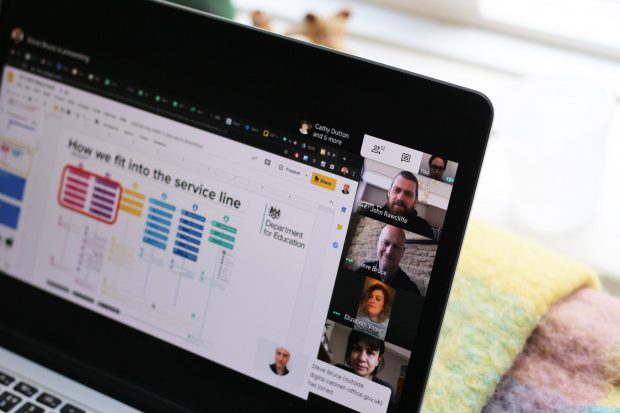 The Standards Assurance Service Team at the Government Digital Service (GDS) has adapted to running service assessments remotely. 
As we have experience of running pre-assessment calls with panels of assessors or service teams, we were confident that running service assessments using video conferencing tools would not be a significant issue. We were able to scale up our experience, mitigating risks in advance and planning out conference calls in detail to ensure a smooth assessment for service teams.  
We have been conducting a number of remote assessments with service teams from different departments, and our key learning is that although assessments are being done remotely, the fundamental purpose of the assessment remains the same: 
the panel needs to understand the problem the service team is trying to solve

the service team needs to be prepared to answer questions from the panel. 
Here is our advice on how to make sure the remote service assessment works as well.
Before the assessment
A few days before the assessment, the service team should check the following points. This saves time on the day and helps the assessment run smoothly:
share guidance on the software you are using to run the assessment

share all the material referred to in the service assessment in advance – this includes the Show & Tell slide deck and electronic versions of data and visuals, which normally would have been presented as posters on the wall

do a technology check with all attendees. Different departments use different software tools so you need to know in advance that the service team can present, answer questions and that assessors can see the presentation

nominate one person from your team to be in charge of the presentation, ideally the person who's familiar with the presentation software so they can screen share easily. This saves time and avoids frustration 

make sure everyone has the correct details and links to access the meeting

make sure people can communicate with you via a chat function or an instant messaging service in case they lose connection
During the assessment
When you are running the assessment meeting:

allow a bit more time to build rapport (in a physical location, conversation will naturally occur, and it's not the case in a remote assessment) and include 2 extra 5 minutes breaks to allow people to get away from the screens

acknowledge that this way of working can be more challenging; you could praise the participants for their adaptability and check in with those participants that might appear more disengaged 

be flexible – technical problems might arise despite planning, and you might need to work around them, for example, if a microphone is not working, someone can communicate through the chat function

after the initial introductions, ask everyone to mute their microphones and switch their cameras off, except for the speaker – this will remove the background noise and speed things up

use additional communication tools, like signalling whether you're on a breakthrough your online status 

have a learning mindset and run a retro; we use Google forms, but there are other tools available that you might enjoy more such as padlet and fun retro
Pros and cons of running remote assessments
As with any new experience, doing remote assessments has positive and more challenging parts. 
One issue can be the limited ability to interpret non-verbal communication. People who prefer visual forms of communication found it more difficult to see materials on screen. Sometimes it can also feel awkward interrupting a presentation to ask questions, which would not feel so difficult during a face to face assessment.  The chat function can help everyone to communicate during the assessment.
This helps the panel to feel more relaxed, timekeeping is more effective, and the meeting can be recorded (provided you have obtained consent from participants and are following GDPR guidelines).
In current circumstances, we found that with additional planning and organisation to use digital tools, we have been able to run remote service assessments to a similar standard as face to face assessments. While face to face assessments are the best option, remote assessments can be considered when no other realistic option is available. Government departments and their service teams are still delivering at pace and to have their services assessed as quickly as possible.
Are you planning to book an assessment soon? If you have further questions, you can contact the GDS Assessments Team at dbd-assessments@digital.cabinet-office.gov.uk or your internal assurance team.
Related blog post and guidance:
User Research and COVID-19: crowdsourcing tools and tips for remote research on the User research in government blog
Conducting user research while people must stay at home because of coronavirus on the GOV.UK Service Manual